While PRP is effective in stimulating new hair growth and thickening existing hair, its effect lasts up to 12 months. In order to sustain fuller hair, PRP needs to be given about every 9 months. With a successful hair transplant surgery, the effects are significantly longer in
duration. Properly done hair surgery transplants may last years. However, hair surgery is a complicated process that must be done with precision to have desirable outcomes. The final outcome may not be seen for a year. The effects of PRP on hair growth can usually be seen in 3 months with the duration of full effect for about 9 months. Think of PRP as a long acting fertilizer for your hair and scalp. Your lawn need fertilizer to be added at least twice a year to sustain a lush lawn. The same can be said about your hair needing PRP to sustain a dramatically better appearance. This helps patients to have a better quality of life.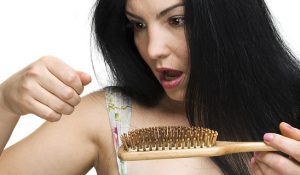 Research published by Geoge Cotsarelis, M.D.has shown that the density of hair follicle stem cells is the same in bald areas of the head as it is in areas that are growing hair. Further research by Dr. Fabio Rinaldi has shown that platelet rich plasma can stimulate these hair follicles in bald areas (alopecia) to activate and grow new hair. Another study on patients affected with hair loss showed thickening of the hair shafts after administration of PRP, resulting in a fuller appearance of growing hair.  At this time, no other therapy has shown to more consistently stimulate new hair growth. PRP is FDA approved for use in human for treatment of a variety of medical conditions. Further research is being done to better understand the process. Hopefully, one day a medication will be able to be used to more effectively reactivate these dormant hair follicles.
There are many advantages of getting PRP for hair growth over conventional hair transplant surgery. The following is a chart comparing the two:
| | | |
| --- | --- | --- |
| | PRP | Hair Surgery |
| Cost | $1500 | $6000+ |
| Procedure Time | 1 hours | 5-6 hours |
| Recovery Time | None | 3 weeks for healing |
| Hair Growth | 3-6 months | 6-12 months |
| Risk of Infection | <1% | 1-2% |

Posted in General Medicine, Platelet Rich Plasma and tagged FDA, Hair, hair growth, hair surgery, Platelet Rich Plasma, PRP, Quality of Life, Surgery by Dan Kassicieh, D.O.
Sarasota Neurology is proud to announce the addition of Nora Davis, ARNP to the practice. In addition to her medical experience of 20 years, she has had extensive training and interest in dermatology to enhance patients' facial appearance. Nora brings to Sarasota Neurology her expertise in skin health and rejuvenation. Additionally, with her medical experience and interest in neurology, she is seeing neurology patients as well. Dr. Kassicieh has had over 20 years of experience in performing Botox therapy for many different medical conditions. As a bonus, doing Botox for cosmetic purposes came naturally. Since 2009, he has been doing platelet rich plasma therapy (PRP), the first Sarasota platelet rich plasma doctor doing non-surgical neuro-orthopedics. Platelet rich plasma therapy is done in the office, using your body's own natural ability to heal itself. PRP therapy can also be used for cosmetic purposes in hair growth and natural, non-surgical face lifts.
Nora is a Board Certified, Advanced Registered Nurse Practitioner, who has been practicing medicine for over 25 years, trained in dermatology aesthetic procedures and most recently joined an Osteopathic specialist, Sarasota neurologist Dr. Daniel Kassicieh. She has her Master of Science Degree from the University of South Florida. Nora is a member of the American Academy of Nurse Practitioners, Southern Gulf Coast Nurse Practitioner Council, Board member of the American Cancer Society of Charlotte County and Certified American Heart Association CPR instructor.
Five years ago Nora entered the dermatology field of Medical Aesthetics. In primary care Nora found a passion in dermatology. Beauty in treating and preventing skin conditions such as acne, rosacea, and skin cancer became her main focus. She has had extensive education and training in aesthetics for facial skin care, laser therapy, Botox, Juvederm and other treatments to reduce or eliminate facial wrinkles and other signs of aging. The goal is to avoid She is an educator and clinician with the Obagi® skin care systems. Additionally she does chemical peels, and performs facial injectable procedures. She focuses on tissue regeneration for wrinkles, laxity, brown spots, dryness and dullness. This, combined with platelet rich plasma therapy to replace facial collagen is the ultimate in facial skin care. Nora promotes wellness and beauty for health management in all ages. She is dedicated and committed to providing the best possible care to her patients to feel and look their best. It is all about quality of life – if you look better, younger – you feel better. Call Sarasota Neurology now for your appointment for a new youthful look and start to reverse the effects of aging.

Posted in Uncategorized and tagged Botox, cosmetic, dermatology, facial, facial skin care, hair growth, neurology, plastic surgery, platelet, platelet rich plasma therapy, PRP, PRP therapy, rejuvenation, Sarasota neurologist, Sarasota Neurology, skin health by Dan Kassicieh, D.O.